Le Pentax K-7 arrive finalement pour de bon. Il va remplacer le Pentax K20 et mérite l'attention de nombreux photographes amateurs sérieux (et aussi de quelques pros).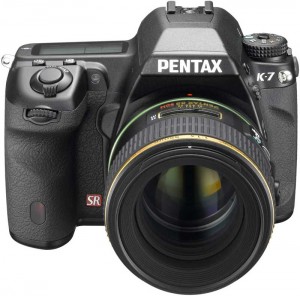 Toutes les caractéristiques
Listées après le saut…

Capteur Samsung 14.6MP CMOS APS-C (Ratio 3:2), 4 canaux de lecture
Nettoyage poussière : mouvements ultra-soniques du filtre passe-bas devant le capteur, "alerte poussière" de l'utilisateur
Sensibilité : 100-3200 ISO (ext. 6400 ISO)
Obturateur : 30s – 1/8000s, Synchro-X à 1/180s, garanti 100 000 déclenchements
Rafales :

Rapide (Hi) : 5.2 images/s
JPEG: 5.2 i/s : jusqu'à 40 images ;
RAW(PEF) : jusqu'à 15 images ;
RAW(DNG) : jusqu'à 14 images
Moyen (Lo) : 3.3 images/s
JPEG: limite : taille de la carte mémoire;
RAW(PEF/DNG) : jusqu'à 17 images

mode LiveView, y compris en rafales
AF en mode LiveView : détection de contraste avec option de reconnaissance de visages
Enregistrement vidéo avec audio mon (micro intégré),
Modes vidéo : 1280 x 720 pixels (16:9 HD standard), 640 x 416 (3:1.95), 1536 x 1024 (3:2), 0 images par seconde dans tous les modes
Panneau LCD rétro-éclairé monochrome, en position haute
Ecran LCD arrière : 3.0″ LCD 640×480 (VGA), 920,000 points, angle de vue 170° (verticalement et horizontalement)
Modes d'exposition : Green mode, Hyper Program (P), Sensitivity Priority (Sv), Shutter Priority (Tv), Aperture Priority (Av), Shutter-Aperture Priority (TAv), Hyper Manual (M), Bulb (B), X-Sync (X), User and Movie
Mesure de la lumière : 77-segments (7×11) Multi-Pattern
Metering modes: Evaluative, Centre-Weighted Average, Spot; Selected via dedicated Metering Mode level at camera top
AF System: New SAFOX VIII+ AF System, same layout as SAFOX VIII (11-Point, 9 Crossed); Improved in speed and accuracy
Focusing modes: AF-S, AF-C, MF; Via dedicated focusing mode selector level
Dedicated AF button
Dedicated AF point selector: Central, Auto and User Select
Flash intégré : activable manuellement, NG13 @ SIO 100
Capteur de détection de l'orientation
Stabilisation d'image, intégrée au boîtier, par déplacement de capteur
Image tone modes: 7 (Bright, Natural, Portrait, Landscape, Vibrant, Monochrome, Muted (for Delicate, Subdued Colours)); Actual Effect Previewable under LV or Digital Preview mode
Image parameters: Saturation, Hue, Contrast, Sharpness, Filter Effect, Toning, Key and Contrast Highlight/Shadow; Actual Effect Previewable under LV or Digital Preview mode
White Balance presets: Auto, Daylight, Shade, Cloudy, Fluorescent Light, Tungsten Light, Flash, CTE (Emphasizing the Colours of Sunset Scenes) and Incandescent-Tinted Fluorescent Light
Manual White Balance: Manual Measurement, Presets and Fine-Tuning (for Green Vs Magenta and Blue Vs Amber)
Espace de couleurs acceptés : sRGB (par défault) et AdobeRGB
Autres : mode HDR (High Dynamic Range) (une image composite à partir de 3 expositions en bracketing), Dynamic Range Expansion, Auto Distortion et corrections CA, Expositions multiples, insertion d'une mention de Copyright, bouton pour fichiers RAW, 16 filtres numériques
Commandes autour du déclencheur : prévisualisation ; 2 boutons pour sensibiltié ISO et correction +/-EV, éclairage du LCD supérieur
Prise synchro flash standard
Récepteurs télécommande IR : face et dos du boitier
Objectifs Pentax KAF2 (K-mount, accepte AF KAF et SDM KAF2/KAF3)
Viseur : pentaprisme, couverture 100%, avec grandissement de 0.92x
Boitier : alliage de magnésium sur chassis acier
Tropicalisation, fonctionnement prévu jusqu'à -10°C
E/S : Left side: DC In, PC/AV, HDMI Out, Mic In; Right side: Cable Switch Connector
Batterie rechargeable : nouveau type D-LI90, 7.4V/1900mAh (nominal), 980 déclenchements sans flash
Cartes mémoire SD et SDHC
Dimensions : 130.5(L) x 96.5(H) x 72.5(P) mm (5.1 x 3.8 x 2.9 pouces)
Poids : 670g, boitier seul ; 750g, prêt à l'emploi (avec batterie & carte SD)
Logiciel : Pentax Photo Laboratory (avec traitement RAW SILKYPIX), Pentax Photo Browser, etc.
Kit objectif : DA 18-55/3.5-5.6 AL WR (water/weather-resistant, tropicalisé)
Options : poignée D-BG4, tropicalisée, basse température, une batterie D-LI90 ou six batteries AA, déclencheur, preview, e-Dials, AE-Lock, bouton vert, et AF
Le prix est attendu aux alentours de 1000€ en boitier seul, mais le kit avec le zoom 18-55 tropicalisé sera particulièrement intéressant lui aussi à 1200€.
Press Release de Pentax
PENTAX K-7
A Mid-Range Digital SLR Camera equipped with sophisticated features for top-quality digital photography

PENTAX UK is pleased to announce the launch of the PENTAX K-7 lens-interchangeable digital SLR camera. The K-7 combines a variety of advanced functions and user-friendly features to ensure outstanding reliability and capability within a compact, lightweight body.
The K-7 joins the current PENTAX K digital SLR camera series as a high-end model in the range. True to its series concept, it has been designed to deliver outstanding image quality combined with ease of use, to benefit photo enthusiasts of all levels, including advanced amateurs. The K-7 also includes revised and upgraded features including viewfinder, shutter unit, continuous-shooting capacity, and exposure and autofocus systems.
Protected by a durable, high-quality metallic body, the K-7 is extremely compact and functional — as with all other K-series models — delivering enhanced portability and manoeuverability. The model includes several new user-friendly features, including video recording, high dynamic range (HDR), and automatic horizon correction. All of these features serve to deliver a highly effective photographic tool, perfect for all discerning digital SLR photographers.
Main Features
1. Durable and functional body, smaller than any other in its class
The K-7 is exceptionally solid and durable in design, with a stainless-steel alloy frame and lightweight magnesium-steel alloy body. With 77 special seals applied to the body, it also features a dustproof, weather and cold-resistant construction, ensuring reliable operation even under harsh conditions and at temperatures as low as -10°C. It also features a newly designed shutter unit providing a top shutter speed of 1/8000 second and the outstanding capability to withstand 100,000 shutter releases.
2. Optical viewfinder featuring approx. 100% field of view
The K-7's glass prism finder offers approximately 100% field of view along with approximately 92% magnification to facilitate focusing and framing operations. It also features a new Natural-Bright-Matte III focusing screen to improve focusing accuracy during manual-focus operation.
3. High-speed continuous shooting at approx. 5.2 images per second
The K-7's high-speed continuous shooting mode captures as many as 40 images (in JPEG recording format) at a maximum speed of approximately 5.2 images per second, allowing the photographer to follow the movement of an active subject or preserve a sequence of the subject's expressions.
4. New DR II mechanism to minimise dust spots
The K-7 comes equipped with the newly developed DR (Dust Removal) II mechanism, designed to effectively minimise annoying dust spots on recorded images, even after changing lenses in dust-prone outdoor settings. The K-7's unique dust-alert system also lets the user check for dust on the filter prior to actual shooting.
5. High-quality image reproduction
(1) Approximately 14.6 effective megapixels for true-to-life image reproduction
The K-7 incorporates a newly developed CMOS image sensor measuring 23.4mm by 15.6mm featuring a high-speed, four-channel image data read-out. With approximately 14.6 effective megapixels, this image sensor can faithfully and accurately reproduce fine-detailed, gradation-rich images. With the adverse effects of digital noise greatly reduced, the sensitivity can be increased from ISO 100 up to the highest level of ISO 6400 (via a custom function).
(2) High-performance, high-speed PRIME II imaging engine
The K-7 features the newly developed PRIME (PENTAX Real Image Engine) II as its imaging engine, an upgrade of the original PRIME,. This new imaging engine offers greater data-processing speed and produces improved quality images with richer gradation and more accurate colour rendition. It also offers high-speed movie data transmission.
6. New 77-segment multi-pattern metering
Newly developed for the K-7, a sophisticated 77-segment multi-pattern metering system greatly improves light-metering accuracy. By accurately analysing various types of data (such as the image's composition and format between upright and horizontal, and the subject's distance and magnification) transmitted from the sensors in the camera body, this system greatly improves the accuracy of exposure control.
7. New-generation SR mechanism for improved shake-reduction effect
The K-7 features the PENTAX-developed SR (Shake Reduction) feature, which effectively minimises the adverse effect of camera shake by approximately 2.5 to 4 shutter steps, assuring sharp, blur-free images even under demanding shooting conditions. This innovative feature is compatible with all PENTAX interchangeable lenses — including a selection of the lenses designed for film-format cameras.*
* Lenses compatible with this mechanism are the PENTAX K-, KA-, KAF-, KAF2- and KAF3-mount lenses; screw-mounted lenses (with an adapter); and 645-and 67system lenses (with an adapter). Some functions may not be available with certain lenses.
8. Live View real-time, on-display image confirmation with Face Recognition AF and high-speed continuous shooting modes
The K-7 features the Live View function, which allows the user to view the image on the LCD monitor during shooting. You can take advantage of this convenient function not only in the Contrast AF mode, which optimizes the focus based on the subject's contrast, but also in the Face Recognition AF mode, which automatically and accurately focuses on the subject's face.
9. High-quality still image recording at 1280 x 720 pixels; 30-frames-per-second movie recording at HD-television proportions
The K-7 adds a new movie recording function, extending the benefits of SLR photography to the world of movie shooting. Beautiful movie clips can be recorded at various sizes — 640 x 416 pixels, 1536 x 1024 pixels, or 1280 x 720 pixels (16:9 high-definition TV proportions) — at a frame rate of 30 frames per second. The K-7 is also equipped with an HVMI terminal and an external microphone input terminal.
10. New 11-point wide-frame AF sensor
The K-7's new SAFOX VIII+ wide-frame autofocus system features 11 sensor points (with 9 cross-type sensors positioned in the middle). This AF system ensures reliable, responsive autofocus operation superior in speed and accuracy to the previous system. The K-7 also incorporates an AF-assisted spotbeam projector in its built-in flash unit to improve autofocusing accuracy in the dark.
11. Custom Image function to easily create desired visual effects
The K-7's Custom Image function allows the user to provide a finishing touch to an image by highlighting the ambience of the scene. The user can select one of seven modes, including the new "Muted" mode designed to recreate an image with delicate, subdued colours. In addition to saturation, tone, contrast and sharpness — the functions previously available — it is now possible to adjust "key" and "contrast highlight/shadow" to the desired levels. The effects of these factors can be effortlessly confirmed on a preview image using the Digital Preview or Live View function before finalising the settings.
12. Versatile exposure system for faithful reproduction of creative intentions
(1) Hyper Programme function
The K-7's Hyper Programme function allows the user to instantly switch from the Programmed AE mode, to the Shutter or Aperture-Priority AE mode with a simple turn of the electronic dials on the grip.
(2) Hyper Manual function
When shooting in Manual mode, a single push of the green button allows the user to instantly set the proper exposure for the subject.
(3) Sensitivity-Priority mode
The K-7 features a unique Sensitivity-Priority (Sv) mode, designed to automatically select the optimum combination of aperture and shutter speed for a user-selected sensitivity. The sensitivity can be shifted instantly in 1/2 or 1/3 steps by turning the electronic dial on the back panel.
(4) Shutter/Aperture-Priority mode
The Shutter/Aperture-Priority (TAv) mode automatically selects the most appropriate sensitivity for a user-selected shutter-speed/aperture combination. It allows the user to experiment with a greater range of photographic expressions simply and effectively.
13. Large, easy-to-see 3.0-inch wide-view LCD monitor with approximately 920,000 dots
The K-7 features a large 3.0-inch colour LCD monitor with approximately 920,000 dots on its back panel. Its wide-view design allows the photographer to check the monitor image from approximately 170 degrees both vertically and horizontally, facilitating low- and high-angle shooting using the Live View function.
14. Powerful rechargeable battery
The K-7 is powered by a large-capacity, rechargeable lithium-ion battery, which can capture approximately 980 images** when fully charged.
** Under testing conditions prescribed by PENTAX, when using a rechargeable D-LI90 lithium-ion battery with no flash.
15. Other features
1) HDR (high dynamic range) function to create one composite image with
an extra-wide gradation range from three images with different exposures
2) Dynamic-range expansion function to compensate for both
white-washed (overexposed) and blacked-out (underexposed) areas
3) Digital level function for easy checking of the image's levels
4) Automatic compensation of distortion and lateral chromatic
aberration (available only with DA- and DFA-series lenses)
5) White balance control, featuring a new CTE mode to emphasise
the colour components of sunset scenes and a new
incandescent-tinted fluorescent light mode
6) Multi-exposure function, with a super-imposition of already-recorded
images on the LCD monitor for at-a-glance comparison
7) Attachment of copyright credits on recorded images
8) RAW button for single-action switching of image file format
9) 16 digital filters to add a range of visual effects; a new function to
record an overwritten history also available
10) Colour-specific control buttons/dials for easy recognition and
quick access, based on the universal colour design
11) PENTAX Digital Camera Utility 4 software package, including
a RAW-data processing application (based on the popular
SILKYPIX RAW-data processing engine developed
by Ichikawa Soft Laboratory) and a browser application
Optional accessory
Battery Grip D-BG4
Exclusively designed for the PENTAX K-7 camera body, the Battery Grip D-BG4 is powered by either a rechargeable lithium-ion battery or six AA-size batteries. Since it supplements the camera's battery as an additional power source, the number of recordable images is greatly increased. To facilitate vertical-position shooting, this grip features an extra shutter-release button, preview lever, electronic dials, AE-lock button, Green button and AF button. It also provides the same dustproof, weather and cold-resistant function as the camera body.