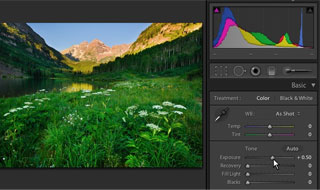 Actually, it won't be long before Adobe returns to the usual situation (more than 200€ for a Lightroom license), but if you are ready to use a beta version of Lightroom, you can get Adobe Lightroom v3.4 RC (RC is for Release Candidate, or the latest beta version considered ready for release/shipping).
Just go to the Adobe Labs web site to get your own downloaded Lightroom.
You'll get bug fixes for Lightroom v3.3, a long list of supported lenses and an extended list of supported cameras for RAW files including the following.
Canon EOS 600D (Rebel T3i / Kiss X5)
Canon EOS 1100D (Rebel T3 / Kiss X50)
Hasselblad H4D-40
Olympus E-PL1s
Olympus E-PL2
Olympus XZ-1
Samsung NX11
Free download for Windows

Free download for MacOS