We may have been thinking that the drama observed in Japan last March were going to disappear from to landscape of photographic camera manufacturers. The catastrophic floods of Thailand came to bring us back to the sad reality.
High waters are rushing through Thailand. The Bangkok county is now seriously preoccupied by the devastation and the victims involved. Water is invading all parts of the Bangkok surroundings one after the other. Local administration stated on Sunday that there were already 297 dead or disappeared people since last July. But the companies are all very concerned.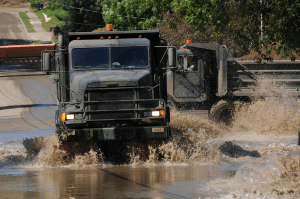 In the photography world, there are mainly two companies under the attention and that are going to pay a high price since the Ayutthaya region saw 93 big plants and 8500 employees saw their work place and tools disappear under dark waters. To be more precise, since the rupture of the last levees, water raised over the 1st floor! which is not a good omen for the repair activities. Bangkok, the state capital, seems to be unscathed yet and (relatively) protected. But there is no margin anymore.
The most impacted photography companies are clearly Sony and Nikon. Sony has lost all capacity to manufacture DSLR photo cameras. This is certainly going to be economically dramatic. Some like Amazon have first published banners to redirect customers to other brands and removed all reservation pages for new products since (Sony Alpha 77 or Sony Nex-7). The others photo cameras from that brand (all of them!) are now only sold from existing stocks (still large stocks, but…).
Similarly, Nikon had to evacuate its local plant and it is now under water with dark and far perspectives to restart (no forecast for a restart at the headquarters). This is hitting hard all entry-level and mid-range cameras (including the Nikon D7000 and Nikon D5100) and a large number of standard lenses. After the closure of the Sendai, Japan plant, this is a very hard blow for the yellow brand.
For these two brands of photo cameras, the consequences may be quite dramatic. We already saw Nikon re-organizing its price structure at worldwide level, probably to take into account its manufacturing difficulties. This will not ease the situation and restart will certainly be very difficult depending on the exact duration of the rain fall. But we can forecast some commercial stress while we are now reaching the intense sales period of Christmas and the end of the year. And the availability of some new products (particularly for Sony which had seemed to be out of most of the Japan issues) may have to be pushed far in the future.