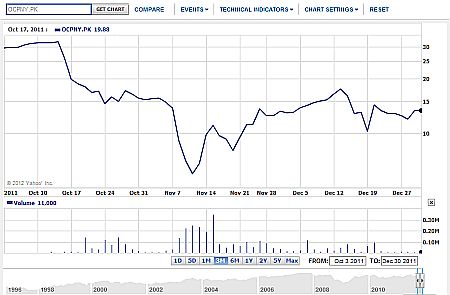 Olympus is going through really dire straits. The previous management has obviously organized some really risky finance operations (so risky that they turned to be catastrophic).
Now that smoke and dust are settling down we can see more clearly (it produced a small hike up in the stock prices and we heard that the rumors of mafia crime implication are no longer credible). The financial status stays very difficult, at best. All the analysts are agreeing on the prediction of a capital raise to bring some new cash (though it will certainly get the previous owners and the current management expelled).
But the conditions are ill chosen. Specifically, Olympus has a tough choice to make:
either they wait for the troubles to fade out, and the company will run out of cash; They will have to sell parts, the photo division now becomes "the crown's jewels" to be auctioned off, if it happens soon.
or they try to quickly raise new funds on the market [1], and the management will be quickly shown the exit door by the new owners.
In this last case, the big question is "Who would want of that?" The names most commonly heard are:
Sony: They have enough free cash, but what would they look for in such a mess, except a fast investment with an even faster cash out?
Fujifilm: They are already present on very similar markets (Medical Imaging and Photography) but they may loose even their shirt and their boots at this table. According to Reuters, they did not decide yet.
Panasonic: could be interested in grabbing some patents, some designers and the means to reboot its own photo camera business.
So, we will have to stay alert for news in this beginning of the year to know how Olympus will end: Eaten by a raider or lightened by a severe diet?