One special use of the Library of Congress collection of historical photos: Transform your photos into old-looking original pictures from a century ago. For this, essentially, you go hunting for a nice looking frame in the LOC collection on Flickr. You will easily find a photo which has the kind of frame you'd like to re-use (be aware that frames differ a lot according to the type of image and the year it was taken, some old glass plates do not have the same borders as Kodak large format film).
Then, you remove the content using the magnetic lasso of Photoshop and you are quickly left with a frame that you could add to an existing photo of yours (remember to convert your image to black and white accordingly, of course, or even better to transform it using the Wankoto labs trick to make your picture look old).
For your own perusal, here are three frames I built in a matter of minutes (click on the thumbnail in order to enlarge it and to get the full resolution frame). Feel free to re-use them as you wish; This is my gift to you.
Nota bene: To assemble the two images, you will certainly be willing to use Photoshop, layers and the "Multiply" option with a permutation of the bottom layer (as in the following – from a French version of Photoshop).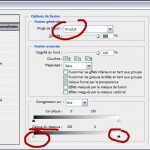 The only difficulty is to remember to fight with the cursors. Then, you may want to clean up a little the border, but the result is already OK: