A few years ago, the only destination we could think of for our photos was the paper used for most family snapshots. A few photographers were also making large format printouts, but nothing more.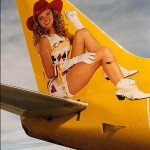 With the advent of digital photography, it is now common not to print at all and to look at the pictures on the LCD screen, on the computer or on the mobile phone used to grab the image.
Print a lot
But, thanks to Internet, we also added the possibility to use printing services to nearly any kind of substrate. Think about it: In most cases, the printing services include at least the options to have your best images printed on:
Posters
Cards
T-shirts, shorts and other cloth
Mugs
Caps
etc.
Print on everything
But is this all? No! I found a series of surprising ways you can use your photos. The imagination seems to be the only limit. Let's find the list of things I liked (after the jump…).
Shower curtains
Yes! You can have your personalized shower curtain. You can add your own photos to improve the shower. The imagination is definitely the limit.
For $150-200, PhotoShowerCurtain.com will put your pictures on a plastified shower curtain using dye sublimation.
Photo books
Many a print company offers the possibility to print a book (or a booklet) of your photos. I will not recommend one, but I would suggest that you follow the advice from Neil and Naomi Creek in Show your photos like a Pro with a Photo eBook (even if this is targeted at eBooks, a good part of the advice is applicable in print too).
I would also suggest that you take time to check great photo books by photographers like Scott Kelby. I love his work on "The colors of… Tuscany". Take free inspiration. Try and reproduce the best of his presentation; Your book will be great.
Puzzle blocks
PhotoJojo also suggest that you may be printing your photo on puzzle blocks. A kind of high-quality kids game that is involving your own photography work.
I admit that this could become a nice Christmas present for your kids (or the kid inside your friends). And it is something that you can do by yourself: Make your own puzzle block.
Hand-painted portraits
At the extreme, you can send the photo portrait of your loved ones to Send Me Your Head and receive a 3″ x 3″ painting from artist Karen Schmidt.
This artistic project may sound weird, but I think it's kind of cool, too.
Copyright (c) Karen Schmidt
Last idea
If you think that this was not enough, you can have a moment of fun and think about what it could be to print your photo directly on a plane.