In the last few days, we heard quite good news from both Nikon and Canon (the obvious leading companies of the Digital SLR camera market).
Nikon boasted about its first place in Japan sales of SLR cameras in the first half of 2010 (January to June). What is interesting is that they exchanged positions in the list (compared to 2009) and, also, that Panasonic is still in the third position with more than 10% of market share.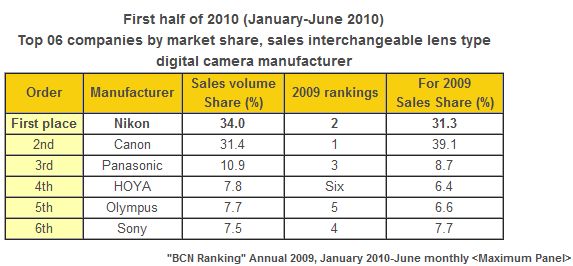 Canon moving down by 8% is a major setback. Sony being far from the third spot is also quite a surprise, but it probably reflects the aging of its SLR line of cameras. Both companies still have some work to do here.
However, Canon had also very good news to announce: Their profits tripled over a year. And this comes mostly from photo cameras and laser printers. It means that the market is here. The crisis is over in the photography world (Canon sales are up 15%).
This is the best way to prepare the end of the year 2010: Plenty of product stacking up to grab the renewed interest of avid photographers! Photokina will be interesting.