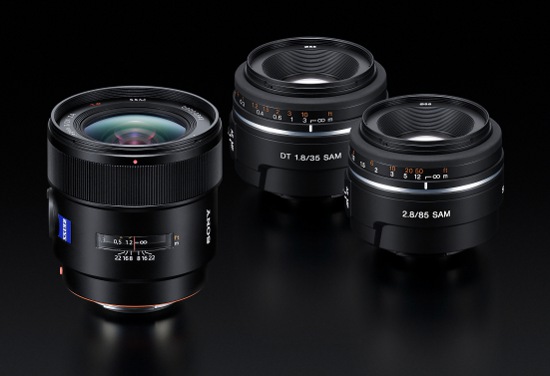 Sony did not wait for Photokina to announce a batch of three new lenses for the Alpha line of DSLR photo cameras.
The Distagon T* 24mm f/2 ZA SSM (SAL24F20Z) complements the already existing beautiful large-aperture wide-angle lenses from Carl Zeiss (Planar (SAL85F14Z) and Sonnar (SAL135F18Z)). It should be priced high but appealing for most experienced and serious photographers.
The DT 35mm f/1.8 SAM (SAL35F18) is very specific but bring extra-large aperture, at a reasonable cost (no SSM, just SAM motorization of focus).
The 85mm f/2.8 SAM (SAL85F28) should be a strong sell for portraiture photography. Compact and light (175g).