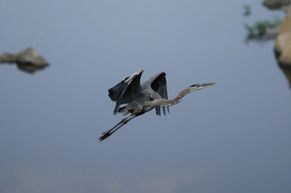 Often, shooting a photography is a matter of choosing the angle. This is confirmed by the flying heron photograph presented to us by Michael Kircher.
Here is a bird shot from high above (while birds tend to appear from below to us, mere mortals). Nevertheless, it is shot against a patch of blue sky (which nothing more than the sky's reflection in the water). Each and every photographer should build at least one photograph in similar rigorous conditions for framing.
Michael Kircher photographs the Potomac River Gorge for other five years. It started simply, as a personal project. It has grown into a true passion. "The place is amazing. Great beauty, wildlife, adventure. And it's all just outside of Washington, DC!"
Like many, I just sort of fell into photography. It's difficult for me to pin point the time when it went from being just a fun exercise to something much more than that. But somewhere along the way I realized I couldn't live without it. A hobby turned profession turned passion.