You have certainly heard the announcement that Ricoh just purchased Pentax from Hoya, its previous owner. As a matter of fact, it may have been surprising more than one, but it was already true that Hoya no longer seemed to know what to do with its photo division under the Pentax brand name.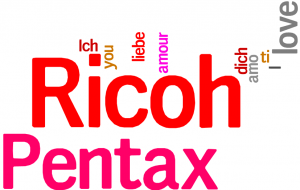 Since the relationship between Pentax and Samsung was no longer very tight (Samsung is now convinced that they ca evolve along without the help of the Pentax DSLR technology and they demonstrated they were right), we knew that there was the need for choosing between going under silently and investing again in Pentax to help it join again the fight with the current heavy-weights like Canon, Nikon and Sony. Hoya chose to throw in the towel (seeing the figures published by Hoya, I have no difficulty understanding why), and Pentax chose to find a new godfather with sufficiently deep pockets to attempt a new effort (before they are really distanced by the bicycle pack as we are seeing things in these Tour de France times).
This is opening the possibility to ask some more questions about the future. First and foremost, the future of Pentax. Ricoh was not very clear on their intents up to now out of the statement that the Pentax brand will remain for current products and that it will still build quality products (Who would write something else?) We are made to understand that Pentax will receive new resources to develop its next generations of DSLR cameras.
Nevertheless, it is striking to see that once again a secondary actor or an partner external to the high-end photography world is reaching out for the DSLR market. There had been -among others- Sony buying Konica-Minolta (after Konica had purchased Minolta of course), or Samsung investing in Pentax, or Hoya purchasing Pentax.
As always, the successes are not always at the end of the road for such big financial operations (but buying Pentax for a few millions is not a merger of equals between Daimler and Chrysler). But we also see that this can lead to interesting results: Sony demonstrated being able to use the DSLR technologies at all price levels and to deploy a line of DSLR cameras incorporating 90% of pro camera features in a price envelope really at amateur level.
So, the question asked really concerns the next possible purchases in this market. I think that several companies are currently exposed to this kind of fast evolution:
Olympus is no longer sure to be willing to manufacture DSLR cameras but does not seem to be growing steadily
Sigma has nearly left the race despite the recent maneuvers around the Sigma SD1
And we can also think about the companies owning brands that are easily recognizable (so, with a large value) but which have been playing in second league since several years:
Fuji
Why not Leica which has mass craftsmanship status (but it may be 100% OK for them)
I believe that some actors may be tempted to act before the positions are too firmly fixed in the market and the shakeup following the Japan crisis of Spring 2011 may play the trigger role. Who could act up?
Let's think about the internal actors which already have huge interests in photography. Samsung does not seem to be ready to disperse itself and will keep working by itself with its own teams. Panasonic (or even Olympus) could be willing to re-enforce their presence by aggregating external strengths (Kodak no longer has the ability to maneuver at these investment levels). But a lens manufacturer like Tamron (Samyang is still much too small) could seize the opportunity.
Moreover, we can look at some external actors decided to have their funds growing through investment in a domain parallel to their original skills. The most astonishing name (but not completely impossible) is Apple under the very stringent condition to be able to reconcile very distant corporate cultures. Philips or Pioneer or Hyundai are also more credible candidates if they want to reach out for photography.
If this is not enough, we need to reach less credible opportunities like movements from Adobe (down side: risking to alienate all camera manufacturers to acquire only one) or from Dell / HP / Acer (down side: DSLR are quite far from their usual customers, but compact cameras could prove more attractive as it was the case in the past).
Obviously, only time will tell. But it's clear that the number of targets is relatively large today and they are potentially attractive for a take-over. Moreover, the time is logically right while the sedimentation beginning to happen in the middle- and high-range of photography since a few years (the losers did not loose their brand value yet) and the arrival of new technologies susceptible to shake the market up (continuous improvement of sensitivity of digital sensors, semi-transparent mirrors, photo-video convergence). But the launch window could also close itself within 12 to 18 months.
Update: A list of companies susceptible to participate to a large financial operation
Japanese industrial companies with more than 1 billion US dollars in cash available for new investments (Source: Bloomberg) :
Denso Corp.
Fujifilm Holdings Corp.
Kuraray Co.
Kyocera Corp.
Mitsubishi Tanabe Pharma Corp.
Ono Pharmaceutical Co.
Rohm Co.
Sega Sammy Holdings Inc.
SMC Corp.
Sony Corp.
Suzuki Motor Corp.
Taisho Pharmaceutical Co.
Yamato Holdings Co.
1 billion USD, this is 10,000 (Oop!s) times what Pentax costed…