Photographic panoramas are certainly, with HDR images (high dynamic range), photographiques, avec les images HDR (à haute dynamique), one of the photo techniques that most profited for the arrival of electronic imagery. What seemed reserved to the owners of luxuriously priced and specialized equipment now appears simply an idea to bring variety to your photographic experience.

Some easy-to-follow advice
Start using the Auto exposure mode of your camera, then switch to Manual to shoot in these exact same conditions (of course, the ambient light must not change, so don't wait too much and avoid times when light is changing quickly -sunset, storms, etc.).
Use a tripod, but if there are not too many objects in the front of the subject don't worry about computing the exxact optimcal center of the camera+lens.
Disable the autofocus after setting the focus correctly and maintin this focus position on all the images.
Do not keep the Auto White Balance on the camera. Instead, select one single WB mode that will be used on all images.
If you do a horizontal panorama, shoot in vertical (portrait) orientation (to increase the usable surface and to improve the final resolution).
Make sure that you have a wide cross-image section to ease the merging process. The merging software package will thank you.
You cautiously shoot a few pictures (see my advice in the side box) and here you are, ready to stitch them with a computer and some software. Let's admit that it tends to eat up hours of pure computer calculation, but who are we to complain while our analog photos took days to come back from the photolab at the mall.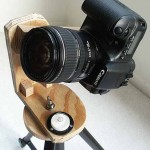 Please note that if you are not armed with special equipment, you don't need to go very far: A tripod with a ball head allowing a smooth rotation around the optical center of the camera+lens system. As this is not so easy to find (and it may be expensive), I want to tell you about a tutorial on How to Build a Panoramic Tripod Head for $10. You'll get the perfect head made mostly of wood. But if your subject is not near the camera (as in my example below), any tripod with a ball head will be enough.
Then, what tool should you use to stitch the images? Most naturally, I would advice to start your prefered Photoshop. Be it CS3 or CS4, the Adobe software does panoramas very easily. But there are plenty of other offers on the market.
I used Photoshop CS3 for the example panorama below taken out of 11 images shot on tripod in a safari during a mid-day stop in front of Rhino Ridge in the heart of Masai Mara National Park in Kenya. I reduced drastically the size of the image (you would probably not want to observe all the details of wildebeests/gnus appearing on the horizon in a 28790*2561-pixel image weighing more than 21 MB):
But there are many other possibilities. As a matter of fact, I wanted to point at a few of them which apepared of specific interest to me.
Under Windows, I was regularly advised to try Panorama studio and Panorama Maker 4. They seem totally able to solve the stitching problem even for simple users.
Then, for Linux lovers (Yes! Some photographers share their love between cameras and Linux machines): Autopano and Hugin are the tools of the trade (in association with TheGimp). They are not perfectly easy to use, so I advise you to check the s1axter's guide to Linux panoramas. It even explains how to avoid a Hugin installation bug by manually adding Enblend, then describes the preparation with Autopano and the panorama stitching with Hugin.
But if you are still on Windows, I want to volunteer an idea around a curious little tool, WPanorama, which offers nice features starting with an egine to display your panoramas in a show. Event better, you can make it a video movie (a .AVI file) or a screen saver (unfortunately, it won't detect the presence of a second or third display if you have them). Really a fun way to eplxoit your panoramas.
So, what's holding you? Go and shoot some panoramas!