Today, the leaks have been collected by our friends of Reportages Photo and they may allow us to discover some of the features of the next Nikon D800 (some believe that it will replace the existing Nikon D700, FX Full Frame photo camera famous for its excellent sensitivity coming from using a reasonably low resolution to get very wide pixels).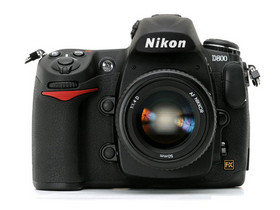 As a matter of fact, an online Chinese eCommerce web site published a product page for the Nikon D800. A photo, some features somewhat far from what is expected from Nikon, but after all, why not?
First and foremost, the resolution would (fast) climb to 24 MP, or near to the current maximum for Full Frame digital sensors, indicating a possible use of the Full Frame photo sensor from Sony (already used on Sony Alpha 900 and Alpha 850, but with some video-capture ability added).
Next, we find a shutter with speeds from 30s to 1/8000s for continuous bursts of 7 frames/second, video recording in 720p and 1080p, ISO 200-6400 (ext. to ISO 100-25600) light sensitivity, exposure metering using a 1005-RGB-point sensor and system, Nikon Multi-CAM 3500FX AF 51-point AF system, a fixed LCD screen attached to the back of the camera with a 3″ (7,5 cm) LCD with 921.000 pixels.
Clearly, this would build a relatively easy to predict kind of camera (apart from the high resolution of the sensor which would indicate Nikon is leaving the lonely track of low resolution Full Frame to go and catch up with Canon and Sony where they already succeed).
But this is still surprising. If this is more than an unfounded rumour, it will allow a prediction of the direction Sony is taking in terms of FF sensors and the successor to the Sony Alpha 900 and Alpha 850 would keep their resolution at 24 MP while video capture would be added like on the Nikon D800.