2010 is decidedly a critical year for Sony: Nearly all the photography product portfolio is going to be renewed and many innovations are coming to sustain this. Even better, at the end of September, the Photokina fair in Köln, Germany, will allow Sony to announce and present several key products defining this rebirth, this jump ahead.
First, and this is very easy to predict, Sony is ready to add to its NEX range of photo cameras. Already noticed because of the originality of its concept (a very dense point-and-shoot-like body, very simple but able to hold not only the new lenses of the new NEX range, but also compatible with the existing Alpha lenses, to bring light onto an APS-C CMOS digital photo sensor brought in the Alpha SLR range). While NEX was received with an obvious interest, it still needs to prove that it fills the needs of a real public. And this may be easier when a few days before the Photokina show (in September) we will be able to see the new photo camera of the NEX range: The NEX-7, which should capture 1080p video up to 60 frames/s. This should bring it in direct competition with the Panasonic GH2 which is still the best digital video offer among the compact photo cameras.
Caractéristiques du NEX-7:
14MP CMOS sensor
Full manual control
1080p @ 60 fps
1080p @ 24 fps
720p @ 120 fps & 60 fps/li>
On top of it, we already know that Sony just presented it NEX-VG10 video camera, which is the pure video solution in the NEX range (again with the same CMOS 14.2 MP digital sensor that Sony seems decided to apply to as many NEX and Alpha cameras as marketingly possible). Available in September (in parallel with the door opening of the Photokina), it will be sold around $2000 (probably a little less than 2000€ on the old E continent).
Of course, Sony will also present (and possibly make immediately available) some new NEX lenses. The one whose name is most often repeated, since the Yodobashi leak in May, is the Sony NEX 18-200mm f3.5-6.3 OSS.

Then, there is no need of a crystal ball to announce that Sony will speak a lot about 3D on the Photokina floor. All the company divisions (video games, movies, video, photography) have been committed to bring active product support to this technology defined as a key target for Sony.
But, will you say, where are the D-SLR here? I kept the finest morsel for this part of the meal I offer you. Sony is preparing a full overhaul of its Alpha range. The A290 and A390 are already here with a 14.2 MP sensor (but only in a-little-outdated CCD technology), here comes the flood. There's no doubt that the successor of the Sony Alpha 700 is ready. It was nearly official in PMA 2010 (at the beginning of 2010):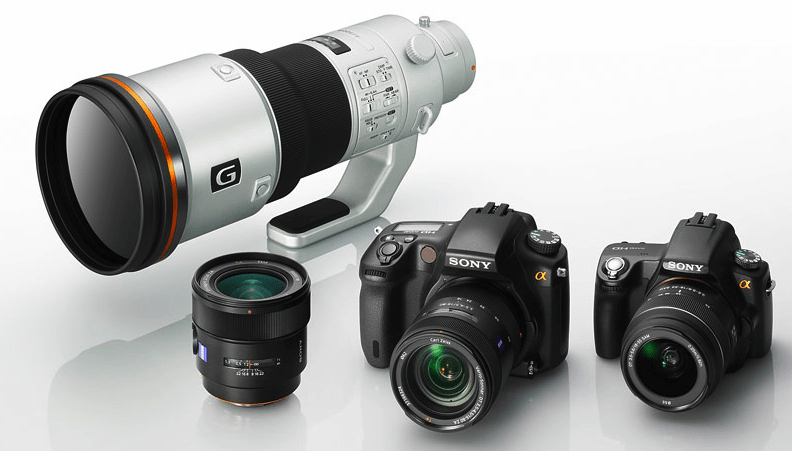 I dream of having reliable information about its photo sensor, but it is nearly certain that it won't be the ubiquitous 14MP CMOS sensor of NEX and A500 series. It will be an APS-C sensor capable of 1080p video capture at 30 fps (at least). Since Sony always repeated that they would never bring a photo camera with a half-thought video section (like some of the competition, they murmur), it will be worth looking into its detailed features. Moreover, I would bet a tidy sum that the camera will be named Alpha 750, even if it appears that A790 was a possibility during the design stage.
The Sony press photo for PMA2010 (above) also gave us an important bit of information: The Sony Alpha 750 will have a little brother also video capable (probably with a resolution limited to 14 MP). The rumor says –curiously enough– that it would be named Alpha 33, and I find this utterly surprising. We'll see, but in the meantime, you could listen to what the Spanish DSLRmagazine has to say about its supposed semi-transparent mirror used to assist a good autofocus in LiveView mode (traduction française, English translation).
But there is another possibility to take into account. According to Réponses Photo, the French magazine, "Sony give [us] a rendezvous in September for other SLR news, but this time in the expert and pro ranges…" (emphasis is mine). It looks a lot like a leak out of a magazine already informed but held tight by the signing of an NDA (Non-Disclosure Agreement). It would seem very surprising that anybody knowledgeable would place the Sony Alpha 750 in the "pro" range, it is the "expert" announcement. But, the, here is the last event: A pro camera! The Sony Alpha 900 (and its little brother A850) would prepare itself for a new offspring in the use of an Alpha 950 (no certainty about the name, of course)! And that could be thunderous if they announced (availability in early 2011?) the new 32 MP Full Frame CMOS sensor in association with a new quad-core BIONZ processor (aka Quattro Bionz).
The other option in this part of the product lien would be the arrival of an Alpha 820 (this name is heard in several mouths right now) which would be a new effort to popularize the Alpha 900 after the sub-2000€ Alpha 850. Credibility: Very low in my (not so) humble opinion.
You will have noticed that I did not go heavy on the conditional tense despite the long list of news. Be prepraed to see a Sony showroom of enormous size and density in Köln, next September for the Photokina. Alpha, NEX, 3D, video, Sony is alive and kicking.