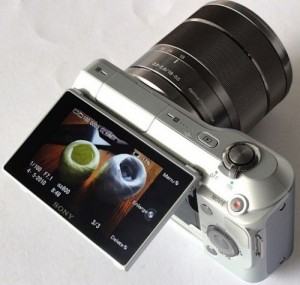 Sony just made a round of announcements that should attract a lot of attention in the photography market (but in relation with video).
First and foremost, here are the first samples of the new range of point-and-shoot photo cameras using an APS-C digital sensor. With the NEX3 and the NEX5, they intend to bring a top-quality photo digital sensor (as found in the digital SLR cameras) in a very compact form factor: LetsGoDigital noticed that the NEX5 is still smaller than an Olympus €-PL1 (even if it is based upon a smaller sensor) or the very recent Samsung NX10.
Watch the vidéo on the web site of Engadget.
At this point, it may even be useful to notice that this is the first (and long-promised) appearance of video capture technology (using AVCHD file format) exploiting an APS-C-size sensor at Sony. This will certainly open the opportunity to demonstrate the technology expected on the upcoming successor to the Alpha 700 (presented in February with another D-SLR camera from the Alpha range and expected to be at a lower price point).
This issue is going to be very interesting to track in the coming weeks (and do not draw conclusions like the Sony Alpha 750 would appear before the end of May).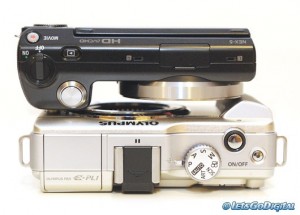 But this is only the beginning here: Sony also just presented a video camcorder which is still in development, whose launch is expected this Fall. Let's stop at some of the most striking characteristics:
It has an APS-C digital sensor (again, like on most of the Digital SLR photo cameras of the Japanese brand)
It grabs 1080p HD videos
It receives interchangeable lenses taken from the Alpha series (of digital SLR cameras from Sony)
Didn't we say that Sony had decided to break ground in video capture using a photo digital sensor?
YouTube link